Adidas AG
Industrial & Graphic Design Samples
2020 Sample Design
Looking at the Adidas Originals branding I wanted to create some refreshing new decal samples for casual apparel using the Adidas signature blue and jagged 3-Stripe integrated into the Originals Trefoil. These simple Tee designs illustrate a minimal yet clean approach to this thinking. The slogan "Impossible is Nothing" has been used to further propel Adidas's identity and their approach to inspire athletes (and non-athlete sportive types) around the world that your achievements can be limitless.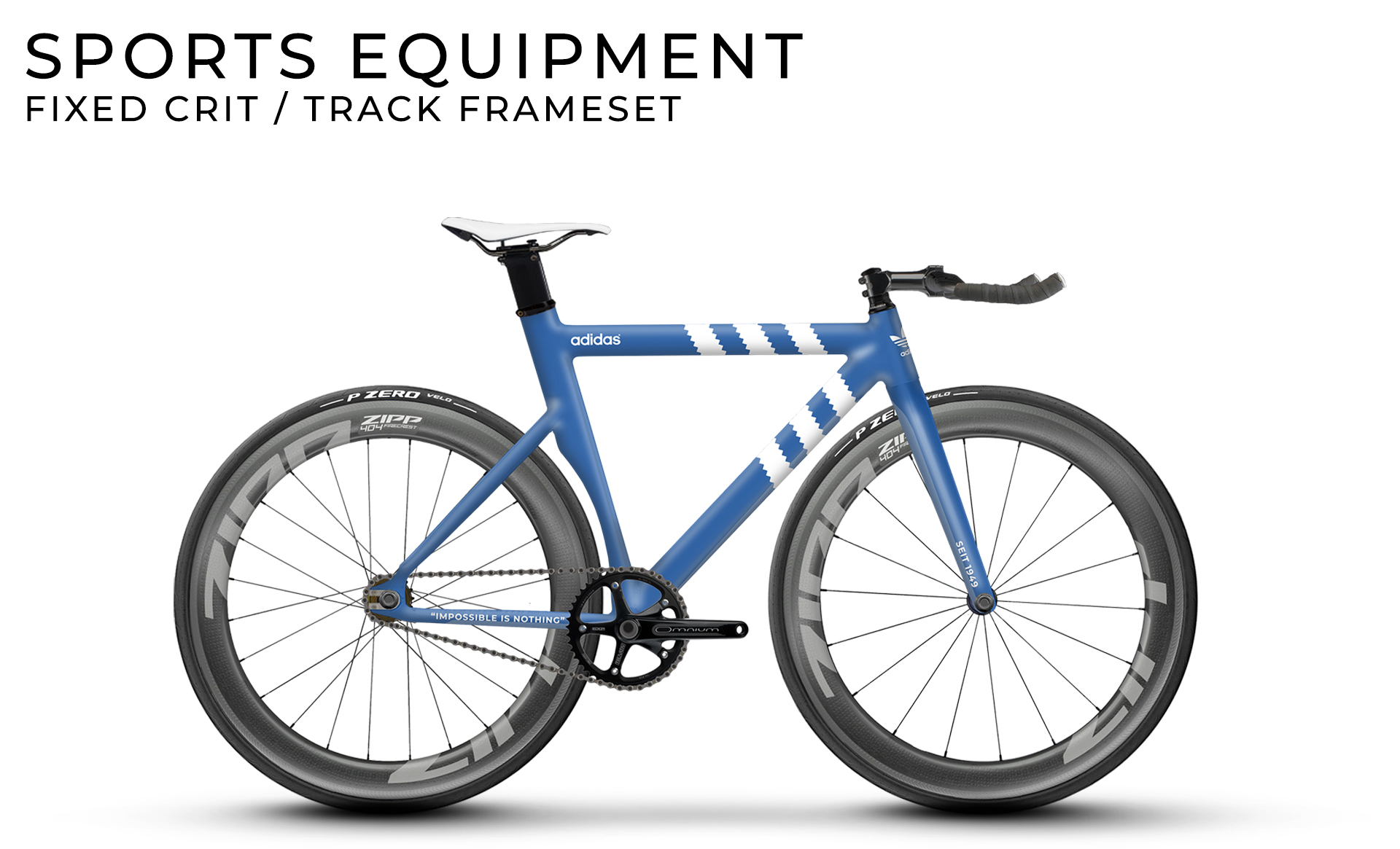 Exploring Adidas's Sports Equipment range, I thought about what other niche sporting areas Adidas could be involved with. Through quick researching, findings showed that Adidas had produced a small range of bicycle helmets and with my background in custom Bicycle design through my freelance work experiences I thought it would be fitting to design a custom track styled bike concept for this Adidas samples page (Frameset Design). 
Like the apparel design, I wanted the signature Adidas blue and jagged 3-stripe to be the main components to the styling. Because framesets have such small surface areas to work with, I had to keep the overall design minimal yet bold only highlighting the key elements of Adidas's Identity so that it would pop out when built up with the other specialist bike components. 
The slogan "Impossible is Nothing" is located near the drive train (crankset) of the bike, inspiring the consumer and onlookers to  always push hard and to always give your everything whether if be for competition or training. As a finishing touch, "Seit 1949" in German for "Since 1949" (the year the founder Adi Dassler registered Adidas) is placed alone on the front fork to signify Adidas's ever-growing presence in the sporting world.
As a continuation from researching into Adidas's involvement in sporting helmet design, I noticed a gap in Adidas's range presenting a perfect design opportunity to include in this sample folio. Adidas has a prominent involvement in the world of Rock Climbing, hosting the Adidas Rockstars competition and with its various apparel range of rock climbing sportswear. Yet, it does not have its own signature rock climbing helmet.
This design is aimed at being a foundational helmet design for Adidas (a base model to initiate a future range), ideal for all skill level climbers both young & mature styled to be unisex using Adidas's neutral signature colours. This helmet has a simple form offering protection all around and well proportioned vents to provide passive cooling to the user's head while in use. As a foundational helmet design, this product would serve as an entry level product for Adidas to sell predominantly to beginners or causal climbers looking to enter the sport which would then lead into more specialist designs for specific groups or types of rock climbers moving forward. 
The helmet's construction consists of 4 key elements; the outer polycarbonate shell (easy to shape and durable for impacts), the Expanded Polystyrene Styrofoam (EPS) impact absorbing lining, Cushioning Pads made from Rubber vinyl nitrile foam (velcro attached) & the adjustable fastening straps (made from a high quality nylon weave – to ensure a snug and secure fit).
Concluding this sample page, I now move towards designing a product for a an area that has become a big passion of mine, footwear design. I have always been a fanatic for Adidas apparel & footwear and so this last design focusses on a design that I would like to showcase as new lifestyle / casual outdoor concept for Adidas. 
This design looks at incorporating materials & styles that Adidas is already familiar with and most notably recognised for.  I'm referring to the comfortable & tasteful suede uppers, Gold text print, durable soft plastics (between the uppers & midsoles) and the minimal silhouette design.